Security tightened across Europe
Comments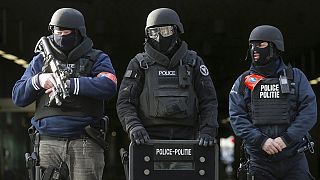 The explosions in Brussels have resulted in heightened security at airports, train and bus stations, ports and other public places around Europe.
German police said patrols and checks have been stepped up across the country particularly at transport hubs and along the borders with Belgium, France, the Netherlands and Luxembourg.
Due to increased security measures there may be additional vehicle controls at the access roads to FRA. https://t.co/Sao0ZcF4AA

— Fraport AG (@Airport_FRA) 22 mars 2016
Hundreds of flights and trains into the Belgian capital were cancelled. Brussels airport was to remain completely shut on Wednesday and checkpoints were increased on roads between France and Belgium.
All flights at #brusselsairport today are cancelled. Contact your airline for further instructions. Avoid the surroundings of the airport.

— Brussels Airport (@BrusselsAirport) 22 mars 2016
French Interior Minister Bernard Cazeneuve said an extra 1,600 police are being deployed there at border checkpoints, and also on air, sea and rail transport infrastructure.
There will be 400 additional police officers out in the greater Paris area, and military patrols will be refocused on public transport sites, the minister said.
The Netherlands, Greece, Austria, Denmark, Sweden and Finland announced similar security measures.
Eurostar temporarily halted all train services via the Channel Tunnel to Brussels Midi station. They only went as far as Lille in northern France.
There are increased patrols at the Eurostar terminus at St Pancras in London, and at UK airports, with the British government advising UK citizens to avoid all but essential travel to Brussels.
UPDATE: As Brussels-Midi re-opens, we are looking to re-instate some services to and from there this afternoon/evening. (1 of 3)

— Eurostar (@Eurostar) 22 de março de 2016