Abdeslam's lawyer threatens legal action against Paris Prosecutor
Comments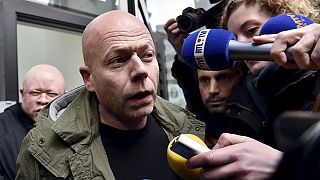 As Salah Abdeslam spent his first night behind bars, the legal battle over the Paris attacks suspect has taken a new turn. His lawyer, Sven Mary, is now threatening legal action against the Paris prosecutor for a breach of confidentiality.
There has been a serious breach of the confidentiality
Arrested on Friday, the 26-year-old is being held in Belgium on charges of 'terrorist murder'.
Paris Prosecutor Francois Molins quoted the suspect as saying he 'had wanted to blow himself up at the Stade de France' but had 'backed out'.
"I think our prosecutor has been, we have to say, extremely careful. Knowing how important the confidentiality of the investigation is. I think the French prosecutor, on the contrary, dared to cite the interrogation, made only hours earlier by Salah Abdeslam. There has been a serious breach of the confidentiality."
It appears that Abdeslam's lawyer is using every legal avenue possible to stall his client's eventual extradition to France.
Under the terms of a new European arrest warrant issued by Paris, Abdeslam must be handed over to the French authorities within three months from the date of his arrest.
On Sunday Belgium's foreign minister said that the suspect told investigators had been planning to 'restart something' from Brussels after a large stash of weapons was uncovered during the raid that led to his arrest.