US ISIL recruiter is jailed for 22 years
Comments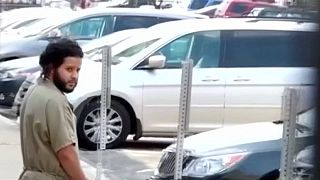 A court in New York state jailed a local man for over 22 years on Thursday for trying to recruit fighters to join ISIL in Syria.
The sentence handed down to Mufid Elfgeeh, 32, is the longest jail term yet for an American convicted of supporting the militant group.
In December, he admitted trying to recruit two people to join so-called Islamic State.
He was also originally charged with trying to kill US service members and unlawfully possessing firearms and silencers.
Beginning in 2013, the FBI paid two informants to help investigate Elfgeeh, according to court records.
The informants recorded conversations in which Elfgeeh talked about wanting to kill members of the
US military and Shi'a Muslims in New York.
One of the informants eventually sold Elfgeeh firearms and ammunition.
Rochester ISIS recruiter sentenced to 22 years: https://t.co/bNLdpDYrehpic.twitter.com/JCnXKT2yjC

— WGRZ (@WGRZ) 18 mars 2016
Elfgeeh of Rochester tried to send the two individuals to Syria to fight on behalf of ISIL, buying them a laptop computer, a high-definition camera, an expedited passport and other travel documents, according to his plea agreement.
He used Facebook and WhatsApp to activate a network of ISIL sympathizers in Turkey, Syria and Yemen who could facilitate their trip, the plea agreement said.
Convictions for ISIL-related activity by Americans have become more frequent in recent months as more than 80 such cases brought by US prosecutors since 2013 work their way through federal courts.