Kon-Tiki crew rescued off coast of Chile
Comments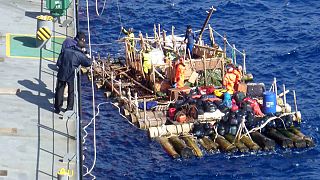 The Chilean Navy has rescued 14 crew members from two rafts that were swept up in strong currents off the country's coast.
Armada coordinó el rescate total de la expedición Kon-Tiki 2 https://t.co/T8DZiyaiRFpic.twitter.com/qB3siljAbD

— Armada de Chile (@Armada_Chile) March 17, 2016
The team were attempting to emulate the famous Kon-Tiki voyage of 1947, and document climate change when they were swept off course by what the expedition leader Torgeir Higraff described as 'atypical' winds. Higraff said that 'In a normal year, we would have reached South America by now.'
The group had set sail in early January from Chile's Easter Island but sent a distress signal on Wednesday bringing their voyage to an end for safety reasons. All crew were said to be in good health.
Experimental archaeology, oceanographic measurements, climate research and the adventure of a life time. pic.twitter.com/WVwQQ5EBuz

— Kon-Tiki2 Expedition (@kontiki2) March 17, 2016
The original expedition set sail from Peru in 1947, led by Norwegian adventurer Thor Heyerdahl. He set out to prove a theory that winds and marine currents made it possible to travel between South America and Polynesia by raft. A tale which inspired many books and films.