Brussels police continue anti-terror raids after fatal operation
Comments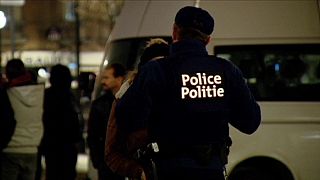 Police in Brussels searched buildings in a city suburb well into Tuesday evening, hours after French-Belgian raid linked to November's Islamist attacks in Paris ended in death and injury.
The streets and cafes in the neighbourhood are not at all empty. But the tension in the Belgian capital is palpable
The authorities say police were fired on by one or more gunmen as they carried out a routine search. Four officers were wounded in a subsequent shootout. Hours later police stormed the building and killed an individual armed with an assault rifle, according to the federal prosecutor.
The injured police officers included a French policewoman, the Belgian Prime Minister Charles Michel told a news conference. Two were still in hospital on Tuesday night, he said, adding that the security operation was ongoing.
Earlier reports said one of those injured was seriously hurt.
Michel played down the importance of the operation, describing the presence of French forces as a coincidence. Belgium's security council is to meet on Wednesday.
Police have not confirmed reports saying two suspects are still being hunted. Media reports said one or two gunmen had escaped across rooftops.
The initial raid appears to have been a routine affair that took police by surprise. The prosecutor said they were armed and wearing bulletproof vests when they were fired on, but were not supported by special forces.
Opération antiterroriste à #Forest: les photos de l'assaut https://t.co/E8nTAw0zDtpic.twitter.com/RZODFAwYLG

— Le Soir (@lesoir) March 15, 2016
In pictures: Victim removed from the scene where shots were fired in the suburb of Forest near #Brussels#Belgiumpic.twitter.com/nhXbGva2id

— euronews (@euronews) 15 March 2016
The events kept the southern district of Forest in a state of lockdown throughout Tuesday afternoon.
"They asked us to evacuate the bus because the police had blocked the Neerstalle street. We got out of the bus, walked, then I heard gunshots near the church, near the school, I also heard two women were involved, so I got careful and walked away and stood at the stop," said local resident Ayoub Kemoussi.
Brussels has witnessed many raids and security scares since being identified as the base from where the Paris attacks were planned.
Tuesday's ordeal lasted for hours for many parents, only able to collect their children from schools and kindergartens after dark.
Schools locked in Forest/Brussels anti terror raid are now evacuated.

— Sándor Zsíros (@EuroSandor) 15 March 2016
Eleven people have been charged in Belgium in connection with the Paris attacks that killed 130 people and injured hundreds. Eight of them are still in custody. The investigation has established that the atrocities were largedly planned and coordinated from Brussels.
According to police sources, Tuesday's operation did not target Salah Abdeslam or Mohamed Abrini, suspects wanted over the Paris attacks, but rather the entourage of one or several of the 11 people charged.
Paris attacks suspect Abdeslam not target of #Brussels search, according to French police source (AFP) #vorst#forest

— euronews (@euronews) 15 March 2016
Euronews correspondent in Brussels, Sándor Zsíros, reported from Forest on Tuesday night: "A few hundred metres away from here terrorists shot at the police with machine guns. Despite this the streets and cafes in the neighbourhood are not at all empty. But the tension in the Belgian capital is palpable."
#forestpic.twitter.com/6DOqaDHB38

— Sándor Zsíros (@EuroSandor) 15 March 2016
Gunman killed in #Brussels anti-terror raid, 2 still on the run — 4 police officers wounded https://t.co/SWOehdDFULpic.twitter.com/JYKufEjj4a

—

POLITICO

Europe (@POLITICOEurope) 15 March 2016