Opposition meets UN envoy on day two of Syria peace talks in Geneva
Comments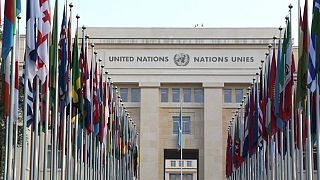 After talks with Syrian government representatives, it is time to meet the opposition.
On day two of a new round of negotiations in Geneva, the UN special envoy for Syria is hoping to make progress towards a concrete peace plan.
The surprise news of a partial withdrawal of Russian forces from Syria has been cautiously welcomed at the talks.
An opposition spokesman Salim al-Muslat told Euronews: "We have to be sure about the nature of this decision and what it means.
"If there is a decision to pull out troops then that is positive. But we have to see that translated on the ground".
The envoy has a difficult job, with a range of issues that have put a stop to previous peace efforts.
Omar Kouch, a specialist in Syrian affairs, told Euronews: "Once we see the results of these first meetings, then we will know if the negotiations will go on, which means a roadmap put in place by Mistura based on the first Geneva plan, and if that doesn't happen, they will call off the talks."
The talks come two weeks after the start of a ceasefire and coincide with the fifth anniversary of the start of the conflict.
The euronews correspondent at the talks, Faiza Garah, reported: "The departure of Bashar al-Assad will be among the crucial points at these talks.
"And there are question marks about whether the negotiations really will be be able to come up with a political solution to put an end to this devastating war in Syria."