Protests at Idomeni as Greece plans to relocate stranded refugees
Comments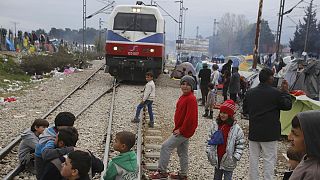 Compared to the chaotic scenes Idomeni has witnessed recently, one operation to distribute items to refugees on Saturday unfolded in a relatively orderly manner.
But some people, desperate for supplies, pushed their way into a tent where food and shoes were being handed out.
Humanitarian agencies and volunteers are struggling to cope at the overcrowded refugee camp on Greece's northern border – where thousands have been prevented from travelling north into the Former Yugoslav Republic of Macedonia (FYROM).
"Some people get four, five shoes and another one, they don't get nothing. And always, always like this happen fight, the people fight for the shoes. So always they give everything, food, like this, with (a) fight," said Sabah, an Iraqi refugee holding a young child in his arms.
7 trucks loaded with tents, beds, blankets from Bulgaria arrived in the refugee camp at #Idomenipic.twitter.com/0CIh0Ojk2R

— Jasper Neve (@JasperNeve) March 12, 2016
The Greek government has been distributing leaflets written in foreign languages such as Arabic, telling migrants and refugees that the border with the former Yugoslav Republic of Macedonia is closed – and that food and medical services await them elsewhere. It asks them to cooperate with the police.
The authorities hope to relocate most of the estimated 14,000 stranded people in the coming weeks. But the operation looks like it may run into trouble.
Many refugees intent on heading north staged a protest at the closed frontier by blocking a railway line between the two countries on Saturday.
#overthefortress#Idomeni Now! The demo became a sit-in on The rail-way. People continue to arrive to the protest pic.twitter.com/dhVZQaRL7x

— Melting Pot (@MeltingPotEU) March 12, 2016
#overthefortress#Idomeni The train go back and leave the place. The demo continues on the rail-way pic.twitter.com/E6Mb8ho7h2

— Melting Pot (@MeltingPotEU) March 12, 2016