Greek-Macedonian border 'not closed' says president
Comments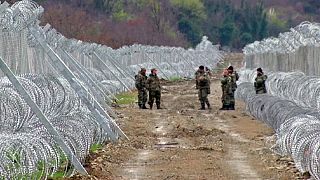 The president of the Former Yugoslav Republic of Macedonia spoke with euronews earlier about the migrant crisis.
Gjorge Ivanov said the border at Idomani is open to anybody with the appropriate travel documents.
"Our border is not closed," Ivanov said. "What is closed is the illegal crossing where migrants used to cross in the past. Of course everyone who wants to be registered and is carrying with them valid documents can pass."
"Macedonia has been a host of refugees in the past," Ivanov added. "First the war in Bosnia, then the war in Kosovo, we had a 360-thousand refugees in our country, so this is not our first time that we have sheltered refugees."
EU Turkey summit
Turkey and the EU will next week work out a deal on taking back migrants in exchange for more funding and other benefits for Ankara.
Legal details are still being worked out ahead of Thursday's (March 17) talks.
Many governments are skeptical.
"It is early to say at this stage, we have to see the solutions which would be finalised in a week from now," said the president. "It is very important that solutions are searched for because this is just the beginning of the migrant crisis, or to be more precise, our entire lives will be faced with this crisis and the movement of people".
Ivanov said that Macedonian institutions had spent 25 million euros on the crisis.
But despite much of the Balkan route being closed to migrants, arrivals to Greece continue.