Migrants fight for free bread and eggs at Greek-Macedonian border
Comments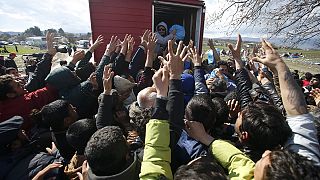 Europe: a place where migrants battle each other for free bread, potatoes and eggs thrown at them from the back of a lorry.
Conditions at Idomeni's muddy tent city at Greece's northern border with the Former Yugoslav Republic of Macedonia show little signs of improving.
Babies, some just weeks old, lie down on damp cardboard boxes.
Continues below
Newborn takes first bath in the muddy fields of #Idomenihttps://t.co/Xx4IUZap6Zpic.twitter.com/FGEagi80vz

— Mathieu von Rohr (@mathieuvonrohr) March 11, 2016
Aid groups say more than a third of the people at the camp are children. Many struggle to sleep in their cold and flooded tents.
"We are in Europe from 20 days ago," explained Ali. "I am in Europe but I cannot even find a safe place now I am fighting the nature [cold weather]. In Syria we are fighting ISIS, now we are fighting the nature and I think its worse that ISIS."
About 14,000 people are camped in the mud at Idomeni, or housed in an overflowing official camp, hoping that Macedonia will allow them to continue their trek north to central Europe, but officials say the border will stay closed to migrants.
Greek authorities have urged the refugees to move to other organised shelters in northern Greece, as there is no immediate prospect of the border reopening.
Many have run out of money and are unable to take a bus elsewhere therefore they wait at the camp and try to stay warm, rising early to look for firewood and food.
Artist Ai Weiwei visits Idomeni: "Europe is not giving refugees dignity or love" https://t.co/U81vuuI7XVpic.twitter.com/x99IuohcdM

—

AJE

News (@AJENews) March 10, 2016