Ukrainian pilot held in Russia ends thirst strike
Comments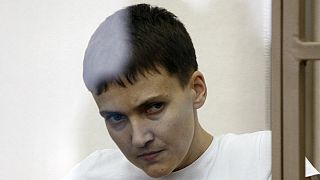 A Ukrainian pilot being held in Russia has ended her thirst strike.
Nadiya Savchenko, who is accused of murdering two Russian journalists, is now drinking liquids but refusing food.
A message on her lawyer's Twitter account said her decision was influenced by Ukraine's president and other supporters.
Savchenko is considered a national hero by many in Ukraine who like her anti-Kremlin stance.
Ukraine's president Petro Poroshenko says Kyiv is ready for prisoner swap with Moscow to secure her release.
"If you are asking me whether a swap would be possible, I would like to say, as the president, from here for the first time, using his constitutional rights, I am ready to swap so Nadia Savchenko can return home," Poroshenko told a news conference in Ankara.
Savchenko says she was captured by pro-Russian rebels in eastern Ukraine over a year ago and handed over to Russia.
She will be sentenced before March 21 and faces up to 25 years in prison if found guilty.
She denies wrongdoing.
Слава Богу Надя Савченко прекратила сухую голодовку. На её решение повлияла просьба Петра Порошенко и всех кто её поддержал! #FreeSavchenko

— Николай Полозов (@Moscow_advokat) 10 Mars 2016