Protesters call for release of Ukrainian pilot from Russian jail
Comments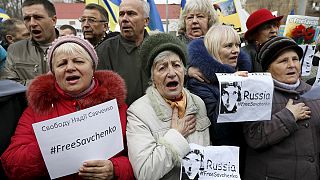 A Ukrainian pilot has given a message of defiance to a Russian court, holding up her middle finger to the judges as she shouted "Here is my last word" from inside a glass cage.
Prosecutors allege that Nadiya Savchenko, who had transferred from the air force to fight with Ukrainian ground forces, helped direct artillery fire in the Luhansk region.
Two Russian television reporters were killed by a shell as a result, they say.
Members of the European Parliament in Strasbourg showed their support for Savchensko. Last week US Secretary of State John Kerry expressed his concern for the pilot's health.
Russian Foreign Ministry Spokeswoman Maria Zakharova told reporters: "What we see is Western countries, Western officials, representatives of their authorities, putting direct pressure onto a Russian court, onto the Russian judicial system. That is the only way to characterise it. We saw how, the day before the court session, the US Secretary of State, the US Vice President, official representatives of the US administration made statements, and similar statements bearing the same absolutely unacceptable tonality were made in other capitals such as London."
Savchenko is considered a national hero in Ukraine and during her imprisonment was elected a member of the country's parliament for Yuliya Tymoshenko's Fatherland Party.
"I think that the Western leaders, the leaders of the world's leading nations and people in the whole world should today stand up together against 'Putinism' [the policies of President Putin] and that means for the defence of Nadiya Savchenko, for the defence of Ukraine and against the war in Ukraine," Tymoshenko told euronews at a demonstration in support of Savchenko outside the Russian embassy in Kyiv.
The court's verdict is expected on March 21, but Savchenko wants to know her fate now.
She remains defiant and warns that she will continue refusing food or liquids. She gave the court a week to announce the verdict, saying otherwise she might not live to hear it.
Russian Foreign Minister Sergei Lavrov and his Ukrainian counterpart Pavlo Klimkin discussed the case in a phone call on Wednesday (March 9), the Russian Foreign Ministry said in a statement cited by Reuters news agency.
Lavrov told Klimkin Russia had been prepared to allow Ukrainian doctors access to Savchenko, but her behaviour in court meant a visit was not possible.
Savchenko is in good health, the ministry said, but would not be able to see any visitors until her sentencing.