Ukrainian pilot Nadiya Savchenko remains defiant
Comments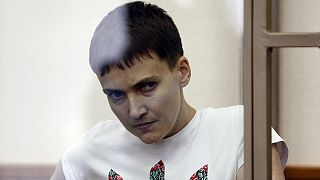 A Ukrainian pilot has given a message of defiance to a Russian court, holding up her middle finger to the judges as she shouted "Here is my last word" from behind a glass barrier.
Prosecutors allege that Nadiya Savchenko, who had transferred from the air force to fight with Ukrainian ground forces, helped direct artillery fire in the Luhansk region.
Two Russian television reporters were killed by a shell as a result, they say.
She is considered a national hero in Ukraine and during her imprisonment was elected a member of the country's parliament for Yuliya Tymoshenko's Fatherland Party.
"I think that the Western leaders, the leaders of the world's leading nations and people in the whole world should today stand up together against 'Putinism' [the policies of President Putin] and that means for the defence of Nadiya Savchenko, for the defence of Ukraine and against the war in Ukraine," Tymoshenko told euronews at a demonstration in support of Savchenko outside the Russian embassy in Kyiv.
The court's verdict is expected on March 21, but Savchenko wants to know her fate now.
She remains defiant and warns that she will continue refusing food or liquids. She gave the court a week to announce the verdict, saying otherwise she might not live to hear it.
Euronews reporter Sergio Cantone at the Kyiv demonstration reported: "The Ukrainians last hope for getting Nadiya Savchenko released is huge international pressure on Moscow, because everybody here thinks that every decision is in the hands of Vladimir Putin."