Brazilian president in show of support for her predecessor
Comments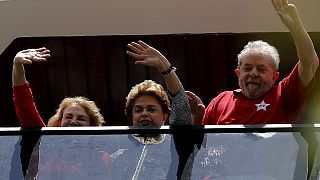 Brazilian president Dilma Rousseff made a brief appearance at the home of her predecessor Lula da Silva on Saturday, a day after he was questioned in connection with a corruption scandal involving state-run oil company Petrobras.
Outside the apartment in Sao Paulo hundreds of supporters staged a show of support for Lula, Brazil's first working-class leader and a hero to millions.
He is credited as having helped to lift an estimated 40m Brazilians out of poverty during his presidency between 2003-2010.
The nature of his forcible detention by police on Friday angered his supporters and led to clashes outside his home, but Saturday's demonstration was largely peaceful.
The police questioning of Lula was the highest profile development so far in a two-year-old corruption investigation that has embroiled dozens of politicians as well as some of Brazil's wealthiest people.