Palestinian woman shot dead after car ramming attack - Israeli army
Comments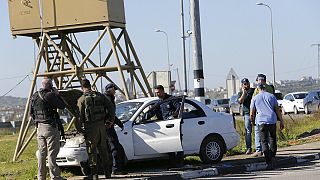 Israeli forces say they have shot dead a Palestinian woman who drove a car into an Israeli soldier in the West Bank on Friday. He is not thought to be seriously injured.
Israel's army says a knife was found in the vehicle following the attack near the Israeli settlement bloc, Gush Etzion.
A wave of Palestinian stabbings, shootings and car rammings that began last October has left 28 Israelis dead.
Israeli security forces have killed at least 173 Palestinians, 115 of whom Israel says were assailants, while most others were shot dead during violent protests.
Israeli soldier lightly wounded in West Bank car-ramming attack https://t.co/aKJHay6PkBpic.twitter.com/K3251QLWHN

— Haaretz.com (@haaretzcom) 4 mars 2016
Palestinian leaders say many Palestinian attackers have acted out of desperation in the absence of movement towards the creation of an independent state. Israel says they are being incited to violence by their leaders and on social media.
The latest violence comes ahead of a five-day Middle East trip by US Vice President Joe Biden. He will meet separately next week with Israeli Prime Minister Benjamin Netanyahu and Palestinian President Mahmoud Abbas.
US-brokered peace talks between Israel and the Palestinians broke down in April 2014.