Leader of Spanish Socialists fails in second parliamentary vote to form minority coalition
Comments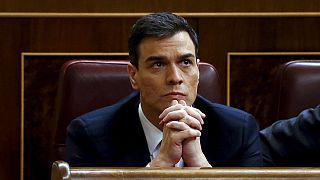 The leader of Spain's Socialists has failed to win the confidence of parliament to become prime minister.
Pedro Sanchez lost a vote for a proposed coalition for the second time in three days.
That sets the country on course for its second election in six months.
Spain's parties have been negotiating to form a government since a December election.
Incumbent prime minister Mariano Rajoy branded the proposed coalition a "farce" and against the national interest.
The socialists' plan to team with newcomer liberal party Ciudadanos (Citizens) failed, as expected, to win parliaments endorsement for a second time this week.
Sanchez tried to woo Rajoy's conservative People's Party and anti-austerity upstart Podemos into joining his so-called government of change.
The pony tailed leader of Podemos held out for a solely leftist alliance.
The clock is now ticking for parties to form an alternative majority before May 2.
On that date parliament would be dissolved and Spaniards would return to the ballot box. Analysts say such an outcome is looking increasingly certain.