Spain in its political labyrinth
Comments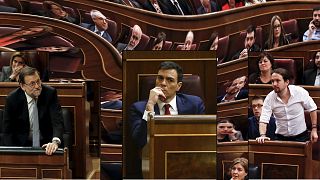 Two and a half months after the General Election, Spain still has no Government. And no-one can tell you when it might get one.
On Friday, exactly 48 hours after their first inconclusive vote MP's will vote once again.
It's essentially a "ceremonial" vote as although it requires just a "simple majority", all the Parliamentary groups seem to stick to their initial position: saying "no" to the Government deal proposed by Pedro Sánchez, the centre-left socialist leader and Albert Rivera, leading the new liberal Party Ciudadanos.
So it's more than likely to result in another impasse with 130 votes in favour (the sum of PSOE and Ciudadanos MPs), well below the 176 votes needed to get a majority in the 350-seat Parliament.
Two month clock-ticking
After the first vote there's a legal period of two months in which to try to form a government. Still no deal after those two months and King Felipe VI has to "dissolve" parliament and call a new General Election.
The countdown started on Wednesday.
Until then Mariano Rajoy of the Partido Popular will remain "caretaker" Prime Minister.
The King's choice
After Friday's vote, the ball comes back into the court of the King who must once again meet with all the political groups.
Then King Felipe has to name the candidate with the greatest chance of forming a Government.
Pedro Sanchez is still the one if the coalition deal with Ciudadanos is maintained, but Mariano Rajoy remains the leader of the party that secured the most votes in the last election.
Any agreement between Podemos and the PSOE seems difficult given the harsh tone of the speeches during the first vote, but virtually anything can happen during the new negotiations period.
What seems really difficult is a broad coalition between conservatives and socialists. Pedro Sanchez promises to step away from "the old politics" and the Popular Party seems the last representative of that old politics in newly elected Parliament, full of new faces.
There is no a deadline for a new vote, so the next candidate could let the current two-month deadline expire, then wait for new elections.
Negotiations are open until May 3, when the Parliament will be dissolved if no one succeeds in forming a Government
The early General Election will be set for June 26.
It's the third time in Spain's young Democracy that a candidate has to go through the second vote to form a Government. After Friday it will —would— be the first time that a candidate fails to get the majority on the second vote.