Brazil's lower house speaker to go on trial for corruption
Comments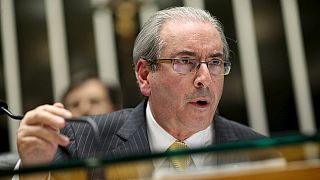 Brazil's Supreme Court on Thursday voted to allow the Lower House speaker Edward Cunha to go on trial for corruption.
He is accused of taking bribes of up to five million dollars related to contracts for two drilling ships operated by state oil company Petrobas.
All ten justices at the hearing in the capital Brasilia voted to proceed with the charges, but outside the court Cunha seemed unperturbed:
"I'm not worried. I haven't held back on my duties and I won't stop carrying them out. Everyone has their democratic right to say what they want to say and defend their opinions. I'm not going to condemn, comment or reprimand any of the attitudes that have been shown."
Cunha is a political rival of President Dilma Rousseff. He authorised the opening of impeachment proceedings against her late last year over allegations she violated fiscal responsibility laws.
He has repeatedly refused to resign, but faces losing his seat in congress if an ethics inquiry underway finds he has been lying about undeclared Swiss bank accounts.
In August, a judge sentenced former Petrobras International director Nestor Cervero to over 12 years in prison for corruption and money laundering related to the bribe allegedly paid to Cunha in exchange for contracts with Korean shipbuilder Samsung Heavy Industries for two drill ships.