Clinton and Trump woo rival support ahead of next nomination vote
Comments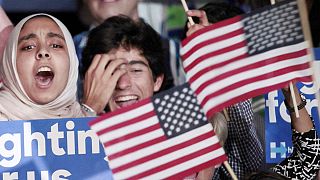 After Super Tuesday, US presidential front runners Hillary Clinton and Donald Trump have been consolidating their wins by reaching out to supporters backing their rivals.
Clinton has vowed to raise the minimum wage to 15 dollars an hour – a rate fellow Democratic contender Bernie Sanders has advocated for years. It's a move which may go down well ahead of the next round of voting on Saturday March 5.
.
Meanwhile Sanders who won his home state of Vermont along with three others on Tuesday has vowed to pursue the battle for nomination in the 35 states yet to vote. Sanders says his campaign has been consistently dismissed by pundits, who he says "have been wrong from day one."
After his seven state win, Republican Donald Trump has proclaimed himself a unifier of both his party and the nation . But it's a description veteran Republicans reject and are said to be taking out so called "attack adds" against the divisive Trump.
Stopping the billionaire's election machine looks increasingly difficult. Rival Ted Cruz has called on other contenders to drop out and pull in behind him. So far only Ben Carson has signalled his withdrawal and says he will not take part in the next Republican debate, scheduled for Thursday night in Detroit.