US voters react: "I don't think either candidate is qualified to run the country"
Comments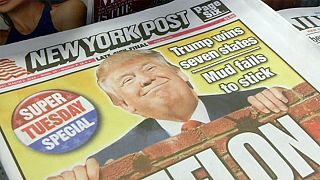 The reality of how the US presidential race is shaping up is now hitting home, the morning after Super Tuesday and confirmation of the favourites.
People gave their reactions in New York.
"It's a very big decision," said one man. "I don't think Trump is good for the U.S. and I think the strongest candidate right now is Hillary."
Another man said: "I'm not happy at all with who will possibly be president at this point. I wish Mayor Bloomberg had intervened."
A female voter said: "I don't think that either of these candidates are qualified to run the country.
"Unfortunately there is no viable option at this point in time."
And that could become a key concern leading up to the polls in November: how to make sure that voters remain engaged and turn out to the ballot box.