Trump tones down rhetoric against rivals after Super Tuesday wins
Comments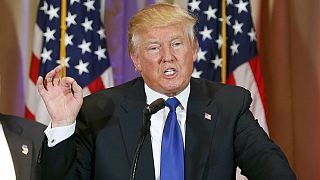 In his victory speech, the billionaire businessman struck a different note and was generally conciliatory towards his Republican rivals but Trump didn't save any niceties when referring to Hillary Clinton.
"I watched Hillary's speech and she's talking about wages have been poor and everything is poor and everything is doing badly but we're going to make it, she's been there for so long, I mean if she hasn't straightened out by now she's not going to straighten it out in the next four years it's just going to become worse and worse," Trump told his supporters in Florida.
"She wants to make America whole again and I'm trying to figure out what is that all about, 'Make America Great Again' is going to be much better than making America whole again," he added.
Despite Texas Senator Ted Cruz's victory in his home state and triumphs in Oklahoma and Alaska, the maverick faces a severe uphill struggle to reverse Trump's blooming fortunes.
The Republican establishment's last fading hope, Marco Rubio, recorded his first win to boost his fading chances which makes it unlikely he'll withdraw from the race before the next big nominating contest in two weeks.