Greece: Macedonian authorities briefly open border, but thousands still stranded in Idomeni
Comments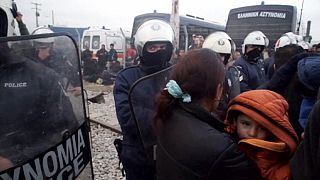 The Former Yugoslav Republic of Macedonia (FYROM) on Saturday briefly opened the border Gevgelija-Idomeni border crossing with Greece.
Around 300 Iraqi and Syrian refugees, most of whom have medical ailments or disabilities, crossed into FYROM.
An estimated 6,000-7,000 migrants are estimated to be gathered at tent camps near the border crossing, which has been closed for days, amid tighter border restrictions implemented by several Balkan countries.
Groups of refugees and migrants on Sunday blocked the railway tracks in Idomeni, chanting "open the borders."
The number of refugees and migrants trapped in Greece may reach 70,000 in coming weeks, according to Greek Migration Minister Migration Minister, Yannis Mouzalas, on Sunday.
"We estimate that we will have a number of people trapped in our country which will be between 50,000 and 70,000… I believe in the coming month (March)," Mouzalas told Greek broadcaster, Mega TV.
The UN High Commissioner for Refugees (UNHCR) Filippo Grandi warned this week that closures and restrictions at borders within Europe were likely to escalate the and could create a critical "bottleneck" in Greece.