Macedonian-Greek Idomeni border crossing briefly reopens
Comments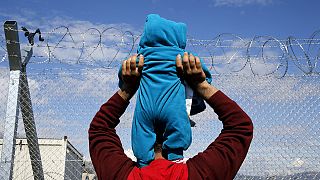 Authorities in the Former Yugoslav Republic of Macedonia opened the country's border with Greece briefly on Saturday (February 27).
A small number of refugees from Syria and Iraq were allowed to continue their northward trek along the Balkan route towards Germany before the border gate at Idomeni was closed again.
European solidarity with refugees
Meanwhile demonstrators across Spain called for safe passage to Europe for refugees.
Banners read: "European Union kills: no to migratory genocide," and "No human being is illegal."
The gatherings were part of a day of action across Europe on Saturday in solidarity with people fleeing conflict.
In Brussels, thousands of people wore the kind of foil thermal blankets given to arriving refugees with signs of hypothermia.
The crowd demanded an end to shutting down borders in favour of a decent welcome.