Activists blamed as trouble flares during Calais migrant camp eviction
Comments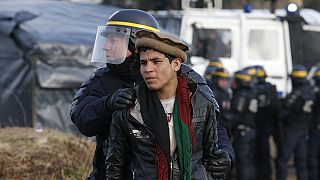 There have been clashes in Calais as police began clearing part of the shanty town in northern France where migrants are trying to reach Britain.
'No Borders' don't hesitate to set fire to tents and shelters, to throw stones at riot police. It's not acceptable and it's normal that we react so as to restore security
A Reuters photographer said about 150 to 200 migrants and activists threw stones, and three makeshift shelters were set on fire at the camp known as the "Jungle".
Several arrests were made on Monday – some of those detained are activists from the UK-based "No Borders" group.
The French authorities had promised a 'humanitarian operation', working with welfare organisations to relocate migrants and refugees after a court in Lille approved the move to dismantle the southern part of the camp.
The authorities blamed one activist group in particular for the trouble.
"You can notice right now that 'No Borders' don't hesitate to set fire to tents and shelters, to throw stones at riot police. It's not acceptable and it's normal that we react so as to restore security," said Etienne Desplanques, Cabinet Director for the prefect of the Pas-de-Calais region.
Now cops are using water cannon to move people from roofs of houses, then put out fire that was already under control. #CalaisJungle#acab

— Calais Solidarity (@calaisolidarity) 29 February 2016
Migrants look on as police clear part of the #jungle camp in #Calais. Photo: Carl_Court</a> <a href="https://twitter.com/GettyImages">GettyImagespic.twitter.com/g20JMF5C4E

— SundayTimesPictures (@STPictures) 29 February 2016
The regional prefect, Fabienne Buccio, had warned that "extremists" might try to intimidate migrants into turning down housing offers or buses to reception centres. The authorities said hundreds of extra spaces would be made available for those displaced.
The group Calais Migrant Solidarity, which believes in "free movement for all", condemned the authorities' operation. It had called for action in the face of what it describes as a "violent border regime".
At the weekend the authorities toured the area urging residents to leave, following the court decision last Thursday.
Some reports said that during the operation migrants were warned that force would be used if they didn't move.
French police spray migrants with water cannons and tear gas in bid to clear camp https://t.co/o32yEkNKO7#Calaispic.twitter.com/XvvZIXVzY6

— Mashable (@mashable) 29 February 2016
Thousands of migrants and refugees, many fleeing war and poverty in Africa, Afghanistan and the Middle East, have converged on the northern French port seeking to reach Britain.
The court decision follows concern over the camp's squalid conditions, and over security – migrants have clashed with police and tried to board lorries approaching the port.
Children living in #Calais and #Dunkirk – "In this environment, children can never thrive" https://t.co/NNedgVffGKpic.twitter.com/h7DFn1Oheh

— Unicef UK (@UNICEF_uk) 29 February 2016
But many migrants have been reluctant to leave the camp, afraid that they will be detained, documented, or forced to claim asylum in France instead of the UK which is their preferred destination.
Among welfare organisations that have been active in the Calais camp, there is concern that refugees will continue to receive long-term medical aid and support.
Demolitions at Calais must not bulldoze people's rights. Forced evictions are no solution: https://t.co/oFKuJcY6J5pic.twitter.com/jiL7I9MA8K

— Amnesty UK (@AmnestyUK) 29 February 2016