US says senior ISIL commander probably killed in Libya airstrike
Comments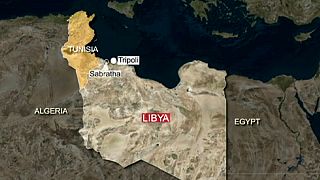 US officials say it's likely that a senior ISIL commander – linked to major attacks in Tunisia last year – was killed in air strikes on Libyan soil that destroyed a suspected training camp run by the self-styled Islamic State early on Friday.
Around 30 to 40 recruits died in the bombing, according to reports quoting sources in the area.
The base at Sabratha west of Tripoli was linked to
Nourredine Chouchane – also known as "Sabir" – a Tunisian blamed for attacks on the Bardo Museum in Tunis and a beach resort near Sousse which left 60 people dead.
The Pentagon said ISIL posed a direct threat to the United States and needed to be confronted wherever it surfaced.
"We took this action against Sabir and the training camp after determining that both he and the ISIL fighters at these facilities were planning external attacks on US and other western interests in the region," said Pentagon spokesman Peter Cook. "As you know, this is not the first time we have taken direct action in Libya or against other high-value ISIL targets, and it may not be the last".
Statement on Libya Airstrike on #ISIL. Strike demonstrates we will go after ISIL using full range of tools available https://t.co/P8S3Nvs7YB

— Peter Cook (@PentagonPresSec) February 19, 2016
The US fighter jets that carried out the raid took off from an RAF base at Lakenheath in Suffolk, southern England.
Despite the destruction of the ISIL camp at Sabratha, there's alarm in the West that ISIL is expanding its control into Libya, with many Tunisians joining the jihadists' ranks.
Senior ISIL fighters are said to have recently moved to Libya from Iraq and Syria. Libya has slid further into chaos since its former leader Muammar Gaddafi was overthrown five years ago, with two rival governments operating, backed by rival factions of former rebel brigades.