Train controller admits responsibility for Bad Aibling crash
Comments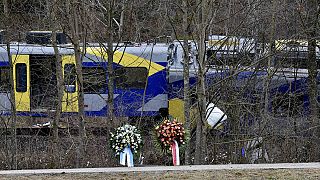 A train area controller has admitted responsibility for a rail crash near Bad Aibling, Bavaria, which killed 11 men, aged 24-59, and wounded dozens more.
The 39-year-old confessed to opening the track to two trains, then attempting to alert the drivers.
One of the trains was late and the controller reportedly tried to resolve the problem manually.
He is likely to be charged with involuntary manslaughter and could face a five-year jail term.
Prosecutors say they don't believe he acted deliberately, but stressed that his actions had "catastrophic" consequences.
A matter of hours after the crash, sources close to the investigation had already suggested human error was to blame. Police, politicians and rail officials, however, stressed the need to wait for the outcome of the inquiry.