Bosch is back! 500 years on, Dutch artist's works return to hometown
Comments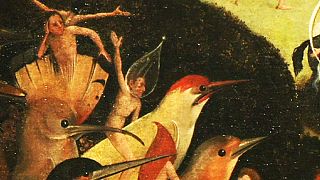 It is an historic homecoming for an illustrious son.
Five hundred years after his death, he is still living
Exactly 500 years after his death, most of the fantastical works of painter Hieronymus Bosch have returned to his hometown in the Netherlands.
A new exhibition features masterpieces collected from some of the world''s top museums including the Prado in Madrid and the Louvre in Paris.
Let the Bosch madness begin... This exhibition at @NoordbrabantsM is not to be missed https://t.co/ZTyeFCs1FRpic.twitter.com/OBKqEeYI9z

— Apollo Magazine (@Apollo_magazine) 11 Février 2016
" Hieronymus Bosch is an outstanding artist because his originality and his creativity is so enormous," said
Charles de Mooij, Director of the Noordbrabants Museum, which is hosting the exhibition.
"He is inspiring artists all over the world till today. So 500 years after his death, he is still living and that is thanks to his originality, the way he depicts the most strange dreams of men."
Few would argue that Bosch was a painter ahead of his time with his depictions of earthly excesses, heaven and hell in weird and wonderful creations.
He was not born with the name Bosch but used it to identify with his hometown – 's-Hertogenbosch – where his
works were created. Despite the passage of time, he would surely be proud to see that it hasn't forgotten him.