Suicide bombing at Damascus police club kills several people
Comments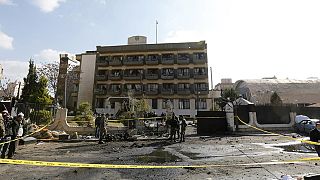 A suicide car bomber blew himself up at a police officers' club in a residential district of Damascus on Tuesday, killing several people, Syria's interior ministry said, and Islamic State militants claimed responsibility.
It said that a number of people were also wounded in the blast in Masaken Barza, a middle class district where several major government buildings are located.
The Syrian Observatory for Human Rights, which tracks violence in Syria's civil war, said eight police officers were killed in the blast and at least 20 wounded after a vehicle was detonated in a parking lot in the police officers' club.
The ultra-hardline Islamic State, in a statement carried by social media, named the bomber as Abu Abdul Rahman al Shami and said he had turned his enemies' "tranquility into horror" to avenge what it called the suffering of fellow Sunni Muslims.
It put the death toll at 20 with at least 40 injuries.
An interior ministry statement said security forces prevented the suicide bomber from entering the heavily patrolled complex and that the blast occurred at its gates.
Syrian state television reported earlier that the blast took place in a busy marketplace. It then retracted this information.
The last major blast in the Syrian capital occurred on Jan. 31 in a Damascus district where Syria's holiest Shi'ite Muslim shrine is located. The blast killed over 70 people including at least 25 Shi'ite militiamen, and was claimed by Islamic State.
Suicide bombings in the heart of the Syrian capital have generally subsided in the last two years. Insurgents however continue to frequently fire mortars into the capital from rebel-held eastern suburbs.
Source:Reuters