Spain: Princess Cristina and her husband in court, as defendants testify in fraud case
Comments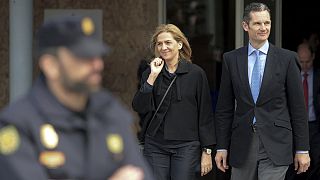 Spain's Princess Cristina, the first member of the country's royal family ever to face trial returned to court in Mallorca on Tuesday.
Cristina one of 18 people to be questioned in connection to an embezzlement scandal that centres around the business affairs of her husband, Inaki Urdangarin.
The princess will be the last of the defendants to testify, so it is not known what day she will take the stand, but all of the accused must be present for all the statements.
Consulta por primera vez las facturas personales que han llevado a la Infanta al banquillo https://t.co/NkFIOJxQXypic.twitter.com/pQWTSO2ogQ

— El Español (@elespanolcom) February 9, 2016
Virginia Lopez Negrete, lawyer for anti-corruption group Manos Limpias (Clean Hands), said outside the Palma courthouse: "It's a very important day both for Spanish justice and for the people, because a female citizen (Cristina) is today in the court room being judged for crimes of which she is accused."
Urdangarin is alleged to have defrauded regional governments out of millions of euros of public money through the charitable foundation that he ran.
Both he and and Cristina deny any wrongdoing.