'Human error responsible' for deadly Bad Aibling train crash - sources
Comments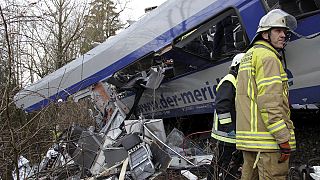 German media, quoting sources close to investigation, cite human error as cause of collision
At least 10 dead
81 injured, 18 in serious condition
Two of three black boxes recovered
No indication of braking before collision
Drivers 'probably didn't see the train ahead until collision'
[no comment live] Rescue teams work at the site of the Bavaria train crash #BadAiblinghttps://t.co/Xo4esZPBfh

— no comment TV (@nocomment) February 9, 2016
German media, quoting sources close to the investigation, are citing human error as the cause of the deadly Bad Aibling train collision.
The person responsible for signal changes apparently turned off an anti-collision system to perform a task manually. Known as the PZB 90, the system was installed on all German railtracks following a 2011 crash. This would usually force trains to brake in the event of a missed signal.
Authorities say at least 10 people have been killed in the head-on, high-speed collision between two commuter trains. Among the dead are one of the two train drivers and two ticket inspectors.
Some 81 people were injured, eighteen seriously. Police say one passenger is still missing , presumed dead.
Around 100 people, mainly commuters, were aboard, according to officials at the scene in the state of Bavaria.
All passengers have now been pulled from the wreckage.
No indication of braking
The collision happened just before 7am on a curve on a single track near the town of Bad Aibling, sixty kilometres south-east of the city of Munich.
German authorities say there was no indication the train/s slowed down before colliding. As the crash happened on a bend in the track, there is every likelihood the train drivers didn't realise what was about to happen until the moment of the collision, Transport Minister Alexander Dobrindt told a press conference.
The stretch of track concerned had a 100 km/h speed limit.
State rail company Deutsche Bahn says one of the trains appears to have been stationary when the other collided with it.
One of the trains derailed and several carriages overturned.
Rapid response and black-box recovery
Rescue workers were on site within four minutes. Around 500 emergency services personnel were deployed. They have retrieved two out of three black boxes on the two trains. A third is said to be embedded in one of the trains.
Officials have refused to speculate on the cause of the collision until the data boxes have been analysed.
Due to the difficult-to-reach location of the crash, rescue operations have been carried out by boat and helicopter.
A survivor's story
Survivors have begun to recount their experiences. One man called Patrick said:
"Suddenly you could feel the train brake abruptly, and there was a massive bang. My head was hurled forward and when I opened my eyes again, all was dark," he explained.
"All you could hear was people shouting and screaming. Right next to me there was a boy lying on the ground, whom I picked up and put on my seat next to me, then I asked around if anybody was hurt. Those who were injured and lying around were not that seriously injured, so a few passengers and I opened the emergency door and went out."