S Korea denounces N Korea rocket launch as 'unacceptable provocation'
Comments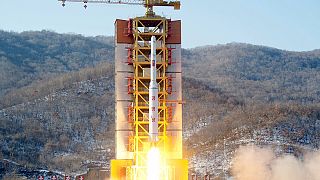 North Korea has launched a long-range rocket, in defiance of international warnings.
Pyongyang's neighbours, along with Washington, have denounced Sunday's launch as a missile test. It came just weeks after North Korea said it had tested a nuclear bomb.
South Korean President, Park Geun-hye, said: "North Korea ignored a warning from the international community and has committed an unacceptable provocation by launching a long-range missile after conducting the fourth nuclear test."
The UN press office confirmed that an emergency meeting of the Security Council would be held later on Sunday, at the request of South Korea, Japan and the US.
North Korea is barred by the UN Security Council from using ballistic missile technology.
"To launch a missile after conducting a nuclear test goes clearly against the U.N. resolution. We will respond resolutely, coordinating closely with the international community," said Japanese Prime Minister Shinzo Abe.