North Korea launches rocket, defying international warnings
Comments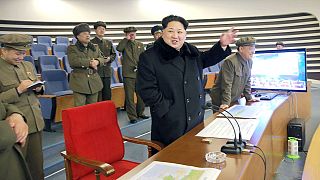 North Korea has defied international warnings and launched a long-range rocket.
Pyongyang had notified UN agencies that it planned to carry out the launch, an announcement which triggered opposition from governments that see it as a long-range missile test.
It said the rocket was being used to carry an Earth observation satellite.
North Korea also carried out a launch in December 2012, putting into orbit an object it described as a communications satellite.
North Korea Pushes Rocket Launch Today Ahead Of Time Frame https://t.co/tKwxE0cVbM

— Judith A. Aparri (@judithaparri) February 7, 2016
Global reaction
South Korea
South Korean President Park Geun-hye said North Korea's long-range rocket launch on Sunday was "an unforgivable act of provocation" and called on the UN Security Council to swiftly adopt strong sanctions.
Park said the North was trying to make advance in its missile capability only to sustain its regime.
Japan
"We will not tolerate North Korea going ahead with the launch after repeated warnings to restrain themselves," said Shinzo Abe, Japanese Prime Minister.
"The missile launch following the nuclear testing is a clear violation of UN Security Council resolutions.
"We will cooperate with the international community and stand firm to take appropriate measures. We will also make our best efforts to protect the security and safety of our people."
China
North Korea's long-range rocket launch will worsen tensions on the Korean peninsula, China's official Xinhua news agency said in a commentary.
The Korean peninsula cannot be nuclearised or descend into war, the commentary added, saying all parties should deal with the situation calmly to keep it from spinning out of control.
Xinhua commentaries are not official statements from the government, but can shed light on official thinking.
America
The United States will work with the United Nations Security Council on "significant measures" to hold North Korea to account for its launching of a rocket, US Secretary of State John Kerry said on Saturday.
Calling the launch a "flagrant violation" of UN resolutions on the country's use of ballistic missile technology, Kerry in a statement reaffirmed the "ironclad" US defence commitments to Japan and South Korea and called the launch a "destabilising and unacceptable challenge" to peace and security.
Seoul: North Korea fires rocket seen as covert missile test https://t.co/Huu4D3YJRC

— Washington Post (@washingtonpost) February 7, 2016
Emergency UN meeting
The US, Japan and South Korea have requested an emergency meeting of the United Nations Security Council on Sunday to discuss the North Korean rocket launch, council diplomats said.
Speaking on condition of anonymity, the diplomats said the meeting would likely take place at 1100 ET (1600 GMT) at UN headquarters.
The diplomats offered no further details about the possible meeting of the 15-nation Security Council.
North Korea launches rocket it says is carrying satellite https://t.co/h6OEvrcSD5pic.twitter.com/fqafTUPpgB

— Reuters Top News (@Reuters) February 7, 2016
North Korea's stance
North Korea has said that its most recent nuclear test, its fourth, was a hydrogen bomb. However, the United States and other governments have expressed doubt over that claim.
Pyongyang is believed to be working on miniaturising a nuclear warhead to mount on a missile, but many experts say it is some time away from perfecting such technology.
It has shown off two versions of a ballistic missile resembling a type that could reach the US West Coast, but there is no evidence the missiles have been tested.
Isolated North Korea says it has a sovereign right to pursue a space programme.
It last launched a long-range rocket in December 2012, sending into orbit an object it described as a communications satellite.