Five migrants saved from channel after trying to sail to Britain from Calais
Comments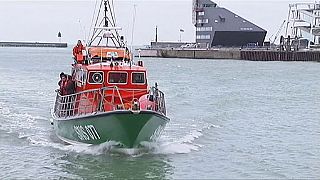 It is not often that migrants attempt to get into Britain the hard way, by crossing the channel from France on their own.
However conditions are so bad in Calais' migrant "jungle" that some are prepared to risk their lives to get out of it.
Five migrants attempted the crossing in a three-metre boat on Saturday, but one of them swam back to shore for help after taking on water. The men had a lucky escape, but still needed treatment for hypothermia.
"They wouldn`t have held out for much longer, one of them had severe hypothermia. They were just exhausted and mostly scared by their misadventure," said the President of the Calais branch of the French National Rescue at sea association Bernard Barron.
The jungle continues to grow despite the French authorities opening other facilities, and at its busiest was home for some 5000 people.
Less crowded now, it remains a place of despair with inadequate sanitation and poor protection from the elements.