Bleak future for migrants in Europe
Comments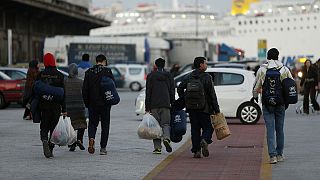 In this week's Perspectives, we follow reports from around Europe on the continuing migrant crisis.
With up to 2,000 migrants still arriving on the Greek islands every day, the EU plan to set up several "hotspots" to register, screen and interview asylum seekers is moving forward but pressure is growing on the Greek government to speed up the process as France 3 reported on Thursday.
As Austria continues to tighten its immigration policy, the government plans to introduce a daily entry limit for asylum seekers. Several Austrian regions are coming up with specific measures. Austria's RSI reported from the far-western federal state of Vorarlberg.
The fear of seeing new so-called "Jungles", similar to the infamous one at the northern French port of Calais, is spreading in neighbouring Belgium. In the port city of Zeebrugge, the governor of West Flanders has sparked controversy over how he wants to treat migrants as France 2 explained.
Last summer, thousands of migrants and asylum seekers received a warm welcome in Germany, after a long and perilous journey to the heart of Europe. But months of bureaucratic hold-ups and money troubles are pushing several of them to return to their home countries. Italy's Rai 3 explored the issue on Wednesday.