Containers replace tents for 1,500 migrants in Calais 'Jungle' camp
Comments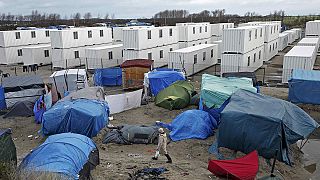 Authorities have moved 140 people living in the so-called Jungle refugee camp in northern France into newly-constructed accommodation.
Made of recycled metallic containers, the temporary shelters have the capacity to hold up to 1,500 people.
Families with children are being given priority.
Local officials are keen to stress the situation is only temporary. Fabienne Buccio, the Prefect for the Pas-de-Calais region said it is "a stop-off point leading to integration" into French society.
Nicolas Pauliac, Head of Mission for the Calais Prefecture added:
"Here, this is a temporary camp and then they have a shelter in France and our goal is to allow them to get into a process where they can stay in France and be integrated into the French society."
The head of the Calais camp rejected suggestions the move would attract more people.
But some people living nearby are not happy with the arrangement. Local resident Noël Lebrun said:
"We're forced to leave. It's not normal. The politicians are doing nothing. We've been forgotten," says this man, who lives near the camp.
Some of the camp's residents said it made no difference whether they were housed in tents or containers.
For Syrian refugee Ahmed Alhamad there is just one thing that matters:
"To stay here or to move to the containers is the same for me. I want to seek asylum in Great Britain," he said.
Officially, 4,000 people live in the Jungle. However reports suggest the figure could be closer to 7,000, with hundreds arriving daily.