Tough talking as Spain tries to form coalition government
Comments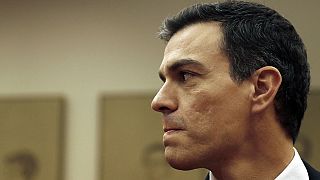 Spain's Socialists are forging ahead with the arduous task of trying to form a coalition government, six weeks after a general election left the country in political stalemate.
Leader Pedro Sanchez is leading the talks and, on Thursday, met with the head of the liberal Ciudadanos.
"There is a negotiating table that has five points. The first is social politics and the fight against unemployment," said Albert Rivera, Ciudadanos leader.
"The second is democratic regeneration and the fight against corruption. The third, constitutional reform.
"Fourth, the economy and fiscal policy and, fifth, Europe and our position in the world, our foreign policy."
The Socialist leader Sanchez is due to meet the anti-austerity Podemos party today. They disagree on a series of fundamental questions, including a possible referendum on independence in Catalonia.
Then next week, there will be talks with the People's Party – or Popular Party – of acting Prime Minister Mariano Rajoy.
"The story of Mr Rajoy, the corruption, and the Popular Party, is like the 'never-ending story,'" said Sanchez, PSOE leader.
"Therefore, I believe that the democratic regeneration that the Spanish people are asking for – with all the respect for the seven million Spanish citizens who voted for the Popular Party last December – needs the Popular Party to turn into the opposition."
December's inconclusive election result has plunged Spain into its most fraught political situation in decades, just as it emerges from a long economic crisis.
A survey showed on Thursday that Podemos would come second if a new election was held today, overtaking the Socialists.