Socialists get their turn to form Spanish government after Rajoy fails
Comments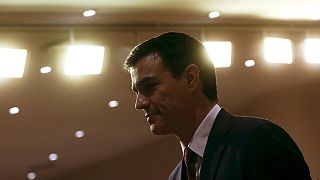 Spain is still staggering uncertainly towards a new government a month after an inconclusive general election.
King Felipe has now asked the second-placed Socialists' leader, Pedro Sanchez, to try and form a government following the failure of outgoing Prime Minister Mariano Rajoy to find anyone who wanted to work with him.
"Spanish democracy has to conclude the election of the head of the government with a more 'pluralist' and 'complex' Congress. All the parties working for the change have to understand each other, in order to achieve this change. The Socialist party is ready to pull Spain out of the deadlock into which Rajoy put it," said Sanchez.
For Rajoy it looks like the end of the road as party leader, but after meeting the king he made it clear what sort of government he wanted to see.
"We want a government supported by the Popular Party, the Socialist Party and Ciudadanos. Because these three political forces agree on the fundamentals: the unity of Spain, national sovereignity, the equality of all Spaniards, our position in Europe, in the eurozone, and in the fight against terrorism," he said.
The new centre-right and hard left parties that did so well in the election could prove troublesome coalition partners for either of the big two parties, especially if they pander to regional nationalists. That could see more fragmentation and a chronic weakening of the two-party system and even, warn some, see regions breaking away from Madrid.