Spanish PM's coalition bid receives latest blow from Podemos
Comments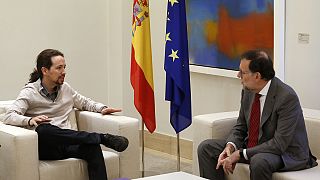 Spain's left-wing Podemos party leader has told Prime Minister Mariano Rajoy that he will not offer any support for a new government formed by Rajoy's centre right Partido Popular (PP). It won the most votes in the 20th December national election but failed to win a parliamentary majority.
Podemos leader Pablo Iglesias said: "The candidate of Popular Party (referring to Rajoy) is fully aware that we will not facilitate a government formed either by him—either actively or passively—nor by any other PP candidate. We have not reached the Spanish parliament to play the game of [musical] chairs, or to make the traditional political compromises, and everyone must know this. If there are to be new elections, we will face up to that, and I do not think I need to say it but it is very possible that we will win."
Rajoy's options are limited; the main opposition Socialist Party (PSOE) led by Pedro Sanchez, who went to meet Rajoy a few days ago, has also ruled out helping him.
Spain has never had a 'grand coalition' with power shared by the PP and PSOE parties.
Sanchez now says: "My position is that if Rajoy and the Popular Party are unable to lead, at this time requiring an ability for dialogue, then the Socialist Party is ready to deal firmly with its legitimate responsibility to offer Spain an alternative government."
It is the role of Spain's King Felipe to nominate one of the parties to form a government. He will hold talks with the leaders in January.
Meanwhile, Spanish media report that almost one out of three voters would like to have a coalition between the Socialists, Podemos and the business-friendly Ciudadanos party of Catalonia.