Spain: political deadlock continues after latest Rajoy move
Comments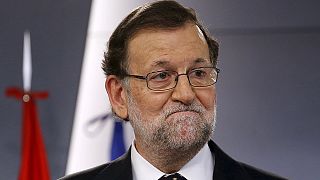 Acting Spanish Prime Minister Mariano Rajoy still believes a grand coalition between his People's Party, the socialists and the smaller Ciudadanos group is the best option for Spain.
The country continues in political limbo after Rajoy's decision on Friday to defer a confidence vote in parliament to try to "form a new government"http://www.euronews.com/2016/01/22/spain-s-acting-premier-mariano-rajoy-has-declined-king-felipe-s-offer-to-be-the/.
On the streets of Madrid opinion was divided:
"Personally I would like to see a more moderate coalition. Rajoy's departure is well-timed because he's realised that it's time for him to step aside."
"I think the news about Rajoy is great because I am tired of him."
"If each party continues to defend what they've sold us then I don't think they can work together because their ideas are quite different."
Rajoy's move has put the spotlight on socialist leader Pedro Sanchez who could seek to form a government with the support of left-wing newcomers Podemos and several other smaller parties.
But Sanchez maintains that it should be Rajoy's People's Party that should act first in attempting to form a government.
It's unclear whether Rajoy is really leaving the floor open to the socialists or if he's seeking more time to drum up support for a confidence vote in the coming weeks.
Failure to form some sort government within two months of a confidence vote would lead to fresh elections.