Diplomatic row at the UN highlights the difficulties for peace in Syria
Comments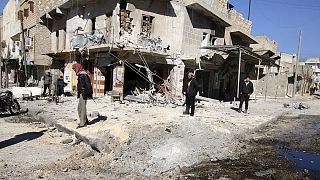 As thousands flee the intense fighting around the Syrian city of Aleppo.
Photos show thousands of refugees from Aleppo gather at the Turkey border https://t.co/FWcoLuOKyipic.twitter.com/oXc0zpiweP

—

BBC

News (World) (@BBCWorld) February 5, 2016
A diplomatic row has broken out at the UN in New York where the French ambassador to the United Nations slammed the Syrian government and its allies for scuppering the Geneva peace talks.
François Delattre, is the French Ambassador to the UN
"The Syrian regime and its allies have made no concessions. Quite the contrary, on the one hand the Syrian regime claims to discuss peace in Geneva, on the other hand it intensifies its military offensive against opposition groups with which it is supposed to discuss."
François Delattre (France) on Syria – Security Council Stakeout (5 February 2016) https://t.co/dPSadWAKs2 UNwebcast #UNMediaStakeout

— iCastNews (@iTeam_iCastNews) February 5, 2016
Russia then took a swipe at the Syrian opposition groups and their backers.
Vitaly Churkin, is the Russian ambassador to the UN: "Those people who have encouraged the opposition to essentially walk out of the talks, who have been refusing our continued offers for them to arrange practical cooperation between us and them on the situation in Syria, they do not have much of a ground to criticise us. Moral or formal ground to criticise us."
Syrie: la #Russie rejette les critiques des impérialistes occidentaux menés par les #USAhttps://t.co/f2TLWsHCdX#Tchourkine

— Claire – Normandie (@Russia_Niemen72) February 5, 2016
On the ground in Syria the situation continues to deteriorate as the violence increases.
Thousands flee as Russia-backed assault threatens to besiege Aleppo https://t.co/HYy0sFr76dpic.twitter.com/vEW4WBk5nD

— The Globe and Mail (@globeandmail) February 5, 2016