First part of new space 'data highway' blasts off from Kazakhstan
Comments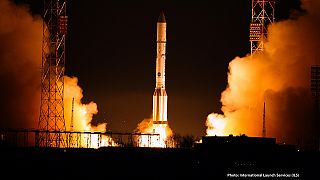 A new space "data highway" has taken a giant leap forward.
The first building block of the European Data Relay Satellite (EDRS), a node, has blasted off from Kazakhstan.
The new system will harness laser-based communications technology to speed up the transmission of data from satellites, which will no longer have to wait for a ground station on Earth to come into view.
It is hoped that it will pave the way for faster than ever monitoring of natural disasters such as earthquakes and floods.
The EDRS is a public-private partnership between the European Space Agency (ESA) and Airbus Defence and Space.