Australia: Geelong hit by freak storm, 'millions and millions' of dollars of damage
Comments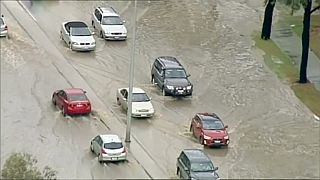 The storm-hit Australian port city of Geelong, in the south-eastern state of Victoria, is beginning to recover from its worst flooding in decades.
Two weeks of rain fell in just 20 minutes on Wednesday afternoon to Geelong, which is located around 75 kilometres southwest of the state capital, Melbourne.
The Australian Bureau of Meteorology described the flash flooding as a "one-in-50-year event."
More than 150 houses were flooded and dozens of cars were submerged, although floodwaters receded quickly.
Geelong's mayor Darryn Lyons told local media he expects the repair bill to reach "millions and millions of dollars."
….Geelong_Mayor</a> severe flooding in geelong pls be careful on our rds <a href="https://twitter.com/hashtag/geelong?src=hash">#geelong</a> <a href="https://t.co/zN6UxJIGTn">pic.twitter.com/zN6UxJIGTn</a></p>&mdash; Darryn Lyons (DarrynLyons) January 27, 2016
Locals were assessing the damage on Thursday after the freak weather, with one restaurant worker saying: "We had customers sitting out here all just abandon their food, everyone just ran inside, so we just had empty tables everywhere."
Some of the destruction we've seen in #Geelong. Cars washed into houses. Total damage tens of millions 9NewsMelb</a> <a href="https://t.co/Vvl6qG65Vu">pic.twitter.com/Vvl6qG65Vu</a></p>&mdash; Laura Spurway (laura_spurway) January 28, 2016