Schengen: Greece responds firmly to EU criticism
Comments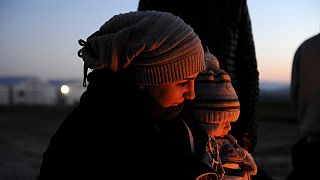 Draft EU evaluation slams Greece
Athens "seriously neglected" its obligations
Will Greece be suspended from Schengen?
The news
Greece has responded firmly to a draft report from the European Commission that has severely criticised its role in the migrant crisis.
Greek PM Alexis Tsipras marks first year anniversary of his SYRIZA government https://t.co/HnXpgFQJEkpic.twitter.com/tPqmjl5jwm

— China.org.cn (@chinaorgcn) January 25, 2016
"We have made some commitments. We have made progress on these commitments. We will be completely ready with regard to these commitments in a month. What remains to be seen is whether Europe will meet its commitments toward Greece and toward an international problem. The refugee crisis isn't a Greek crisis. It's a European crisis and we must find European solutions for European problems," Greek Prime Minister Alexis Tsipras told reporters.
The draft report finds that Athens has "seriously neglected" its obligation to control the frontier of the passport-free Schengen zone.
.EU_Commission</a> sends draft <a href="https://twitter.com/hashtag/Greece?src=hash">#Greece</a> report to Committee - identifies serious deficiencies in external border control <a href="https://t.co/EAK1fka4Pe">https://t.co/EAK1fka4Pe</a></p>&mdash; Natasha Bertaud (NatashaBertaud) January 27, 2016
Migrants were not methodically registered, checked and finger-printed in November, according to the dossier.
Athens is likely to be given three months to improve, after which neighbouring Schengen states could be advised to reintroduce temporary border controls.
Statement by VDombrovskis</a> on <a href="https://twitter.com/hashtag/EMU?src=hash">#EMU</a> <a href="https://twitter.com/hashtag/socialpillar?src=hash">#socialpillar</a> & draft Schengen eval. report on <a href="https://twitter.com/hashtag/Greece?src=hash">#Greece</a> <a href="https://t.co/IOX16FGn6A">https://t.co/IOX16FGn6A</a> <a href="https://twitter.com/EU_Commission">EU_CommissionEEAthina</a></p>&mdash; EC AV Services (EC_AVService) January 27, 2016
EU Commission Vice President Valdis Dombrovskis quotes the report as saying Greece "seriously neglected its obligations under the Schengen agreement."
He added there were "serious deficiencies in the carrying out of external border controls that must be overcome and dealt with by the Greek authorities."
"This report notably finds that there is no effective identification and registration of illegal or irregular migrants."
"Fingerprints are not being entered into the sytem and travel documents are not being systematically checked for identity purposes or against crucial security databases like the Schengen Information System, Interpol and national databases."
Greece threatened with Schengen area expulsion as EU tackles migration crisis https://t.co/6pktLrYYU6

— Ian Traynor (@traynorbrussels) January 25, 2016
The Commission is determined to preserve its key Schengen agreement.
Officials acknowledge that Greece has improved its system of border controls since November.
However, further improvements are needed and Athens must tighten its procedures.
Schengen under threat
We will only save Schengen by applying Schengen – #TeamJunckerEU discussed draft #Schengen Evaluation Report Greece https://t.co/BjEB9XR0M5

— European Commission (@EU_Commission) January 27, 2016
Cracks have appeared in the borderless, passport-free Schengen zone as member states try to deal with the EU's unprecedented migrant crisis.
Free movement of people is one of the EU's core values.
However, countries like Austria and Hungary have already reintroduced temporary checks at frontiers as they try to control the migrant flow.
Vulnerable refugees + migrants are in need of protection + assistance. Our strategy: https://t.co/3PNso9q8nT#Europepic.twitter.com/21R4okP1W5

— UN Refugee Agency (@Refugees) January 26, 2016
44 drown in migrant boat sinking as Germany seeks Turkish help https://t.co/z15N7WbEld#migrants#migrantcrisispic.twitter.com/ZF8EAEjtKM

— The Express Tribune (@etribune) January 22, 2016
More than a million migrants and refugees arrived in the EU last year, 850,000 of them via Greece from where many travelled north to Germany.
Initial figures for 2016 show an increase in arrivals on the same period last year.
Greek ministers have reacted angrily to previous suggestions the country could be isolated from the EU's free movement principle.
What happens now?
Greece has no land borders with the rest of the Schengen zone. In theory, installing new frontier checks will only affect air and sea ports.
"Serious deficiencies" – a key phrase allowing other member states to impose longer-term measures on people arriving from Greece.
These measures come under the never-before used Article 26 of the Schengen code.
They can be brought in for up to six months and renewed up to three times.
It is not clear what might happen after that.
What they are saying
EU states rushing to seal off the bedrooms but the back door's wide open #Schengenhttps://t.co/fO3akuEGn2#Greecepic.twitter.com/o4G12H7Jcg

— Duncan Hooper (@DuncanHooper) January 28, 2016
#migration#refugee EU Commission report says Greece seriously neglecting obligation to protect its border, prelude to tougher action

— Damian Grammaticas (@dngbbc) January 27, 2016
#migration on tues eu commission said no one talking of greece schengen suspension. on weds eu commission finalised report on gk suspension

— Ian Traynor (@traynorbrussels) January 27, 2016