EU warns Greece over border controls
Comments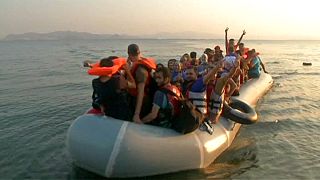 The European Commission has said that Greece has "seriously neglected" its frontier duties to Europe's free-travel Schengen zone.
It said that Greece had failed to implement an effective identification and registration process for irregular migrants.
"The draft report concludes that Greece seriously neglected its obligations and that there are serious deficiencies in the carrying out of external border control that must be overcome and dealt with by the Greek authorities," said Valdis Dombrovskis, a European Commission vice-president.
Checks carried out by EU officials in November revealed that Greece did not register arrivals properly, fingerprint everyone, or check if identity documents were actually genuine.
Athens will be given three months to ensure that the situation at its borders improve.
EU officials are already mulling whether to extend temporary border controls introduced by some Schengen members inside the area's internal borders for up to two years.
More than one million people arrived to Europe illegally by land or sea in 2015, according to the International Organization for Migration.