Video explainer: All you need to know about under-threat Schengen
Comments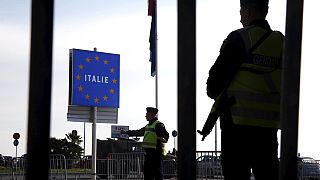 Here we take a look at Europe's passport-free Schengen zone, which is facing its biggest ever threat.
What is the Schengen zone?
It is a zone within which internal borders are scrapped between participating countries, allowing the free movement of people, a key cornerstone of the EU.
After the area came into effect in 1995 it meant the end of security checks at internal frontiers; instead cooperation between countries' security services was meant to be beefed up.
The zone is also meant to have common rules around short-stay visas and asylum requests, although, as we have seen in the last year, the latter has counted for little in practice.
The area is named after the Luxembourg town where an agreement on its introduction was signed in 1985.
Which countries are signed up to be part of Schengen?
Twenty-six countries have signed up to take part, not all them members of the EU: Austria, Belgium, Czech Republic, Denmark, Estonia, Finland, France, Germany, Greece, Hungary, Iceland, Italy, Latvia, Lithuania, Luxembourg, Malta, Netherlands, Norway, Poland, Portugal, Slovakia, Slovenia, Spain, Sweden, Switzerland and Liechtenstein.
Six EU members are outside Schengen and still impose border checks: Bulgaria, Croatia, Cyprus, Ireland, Romania and the United Kingdom.
What are the principles of Schengen?
Free movement of people is a vital component of the wider European project
. The Schengen zone is a key component of allowing workers, students and pensioners to live, work and study in any member state.
Jean-Claude Juncker, president of the European Commission, said 1.7 million workers crossed the EU's internal borders every day. He claimed putting the internal borders back in place would cost three billion euros a year in lost business.
So what's the problem?
By the end of last summer, Europe's refugee crisis, which saw more than a million migrants and refugees enter Europe in 2015, raised question marks about the future of the Schengen zone.
Then the November 13 terrorist attacks happened in Paris. People asked how the attackers had travelled seemingly undetected from Belgium to the French capital. French authorities said fingerprints from at least one of the dead attackers matched those of a person who came to Europe with migrants via Greece.
The continuing flow of migrants over the last few months has seen several countries temporarily abandon Schengen and reimpose border controls, among them Germany, historically one of the biggest proponents of freedom of movement.
Austria, Denmark, Finland, Netherlands, Norway, Slovakia and Sweden have also re-imposed border controls in recent months.
Hungary meanwhile built a fence on its border with Serbia and Croatia, neither part of the Schengen zone.
France closed its borders in the immediate aftermath of the November 13 attacks.
Is this the end of the Schengen zone?
There is undoubtedly a strong will within Brussels to preserve something that is so dear to those at the heart of the European project.
But Donald Tusk, the chairman of European leaders, said on Tuesday (January 19) Europe had no more than two months to get the migration crisis under control – otherwise the Schengen passport-free travel zone would collapse.
The European Commission put forward reform in December, proposing to beef up security at the external borders of the Schengen zone. It has always checked non-EU citizens' details against police databases here, but it now wants to extend this to EU citizens too.