Greece under pressure to act on refugees
Comments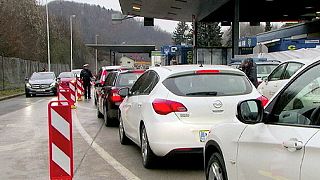 Greece is under pressure to do more to stem the flow of migrants to northern Europe as the EU mulls extending temporary border controls inside its passport-free travel zone.
Some countries have re-introduced security checks as the bloc continues to struggle for solutions to the continent's refugee crisis.
EU interior ministers met in Amsterdam earlier on Monday as part of the Netherlands' chairing of the bloc's presidency.
"Currently, the temporary border measures can be taken only for a limited period of six months. but the unprecedented influx of asylum seekers, which compelled member states to take these measures nationally, have not decreased yet," said Klaas Dijkhoff, the Dutch state secretary for security and justice.
No decisions were taken at the informal meeting, but senior EU officials, including European Council president Donald Tusk, have warned of a race against time to save Schengen.
Austria has warned Greece that it could be kicked out, at least temporarily, of the 26-nation travel area.
And Slovenia's prime minister wants to beef up security on Greece's border with Macedonia.
"We should introduce a second line of defense on the border between Macedonia and Greece. European countries should form a defense on the border to prevent irregular migrations into Europe," Miro Cerar told the Slovenian parliament.
A European commission spokeswoman said there was no plan to remove Greece from the Schengen zone.
Meanwhile, the Greek government hit out at critics, accusing them of playing "the blame game" over refugees.