ISIL claims responsiblity for twin bomb attacks in Homs - dozens dead
Comments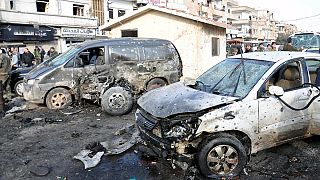 The Islamic State (ISIL) militant group has claimed responsibility for twin bomb blasts in the Syrian city of Homs on Tuesday, which reportedly killed dozens of people.
The governor of Homs, which is controlled by the Syrian government, said that there were two attacks: a car bomb targeting a security checkpoint, followed by the detonation of an explosive belt by a suicide bomber.
Syrian media was reporting that at least 22 people were killed and more than 100 wounded in the attacks.
The Islamic State group, which controls large swathes of Syria and Iraq, said in an online statement that it carried out the blasts – and that more than 30 people were killed.