Syria: Pro-Assad forces hail recapture of key rebel-held town
Comments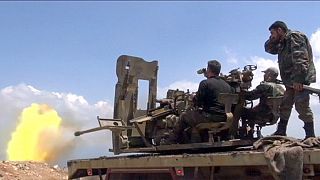 Syria's pro-government forces are hailing a key victory over rebels, ahead of planned peace talks that look
increasingly likely to stall.
The recapture of the town of Rabiya, described as the last rebel stronghold in western Latakia province, was reported by the Syrian Observatory for Human Rights monitoring group and confirmed by Syrian state TV.
#UPDATE Syria army seizes key rebel-held town in Latakia: state TV https://t.co/V9uOB8dIqxpic.twitter.com/LJQtZoeo8Q

— AFP news agency (@AFP) 24 Janvier 2016
Regime forces, supported by Russian officers and Hezbollah militants, then took control of local villages, the Observatory says, amid violent clashes with Islamist fighters, notably from the al-Qaeda affiliate, al-Nusra.
Syrian and Russian airstrikes are said to have played a part.
But the monitoring group says warplanes from the two nations have also killed 164 civilians – including dozens of children – in the last three days in eastern Deir Ezzor province.
A huge question mark surrounds peace talks scheduled for Monday in Geneva amid a row over who should represent the Syrian opposition.
Nonetheless, the United States says it is confident they will go ahead during the week.