Dutch MP hands out defence spray against "Islamic testosterone bombs"
Comments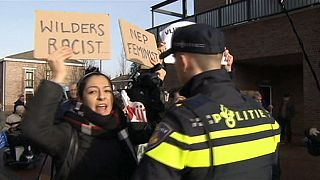 Dutch, far-right, anti-immigration MP Geert Wilders has handed out self-defence sprays containing red paint. The stunt, he says, is to help fearful women protect themselves against what he called "Islamic testosterone bombs."
Dozens turned out to back him, while a small counter-group came out in support of migrants.
In the Netherlands, the tone has toughened in discussion on asylum seekers since New Year's Eve sexual attacks in Cologne, Germany.