Rouhani hails lifting of sanctions and nuclear deal as 'golden page' in Iran's history
Comments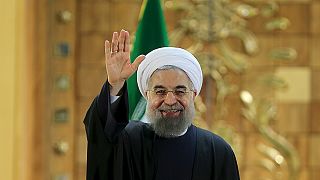 The lifting of most international sanctions marks a new era for Iran, economically and diplomatically, which is reflected in an announcement by Iranian President Hassan Rouhani of official visits to both Italy and France.
It marks a turning point for the economy of Iran, a major oil producer virtually shut out of international markets for five years.
But Rouhani said the country will remain vigilant: "We do not intend to trust countries like the United States simply because of the Joint Comprehensive Plan of Action(JCPOA). There are some mechanisms that we will use to solve disputes if they violate the agreement."
And Tehran has described yesterday's fresh curbs on the country's ballistic missile programme as illegitimate.
The US imposed sanctions on 11 companies and individuals on Sunday for supplying Iran's ballistic missile programme. The move was delayed by more than two weeks so as not to endanger the weekend's prisoner release.