Freed American-Iranians arrive in Germany after prisoner swap
Comments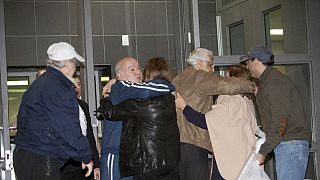 The first picture has emerged of Washington Post correspondent Jason Rezaian since his release from jail in Iran under a prisoner swap as a landmark nuclear deal came into force.
It was tweeted by a US State Department official in Geneva where Rezaian and two other American-Iranians made a brief stopover on Sunday en route to a US base in Germany for medical treatment.
Thrilled to see #JasonRezaian land safely in #Geneva tonight after 18 months of unjust imprisonment in #Iran. pic.twitter.com/j0qY6rc5yo

— Brett McGurk (@brett_mcgurk) 17 Janvier 2016
Rezaian was detained in 2014 and later convicted of espionage.
Travelling with him were ex-US Marine Amir Hekmati, taken into custody while visiting family in Iran in 2011. Sentenced to death for spying, this was later commuted to 10 years in prison.
Back on European soil too is Saeed Abedini, a pastor from Idaho, serving eight years – accused of harming Iran's national security by setting up home-based churches there.
It is thought a fourth man freed under the same swap has chosen to stay in Iran.